I have noticed that I have
confused
a few people with the various backplates on various units. My listings may show one backplate in the photo, another in the description and a 3rd type that I might ship you. This is most common on the 202x, 302x and 303x units.
APC works this out by calling the same unit different model numbers depending on the backplate. Look at the
SUA2200RM2U
(my 202b) here and then the
SUA2200R2X147
(was my 202q).
So, in order to clear this up, I will redo my product pages to show the most common backplate. Then I will feature in the listings alternative backplates.
For now look at my
backplate pag
e and learn about the options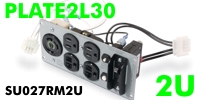 For the record here are the now official plates