Believe it or not, I get this request a lot. However, never from someone outside of Florida.
His wish was to have a) 208v 3U UPS and b) reasonable overnight or same day shipping to Texas.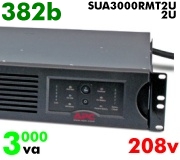 Since 208volt UPS units cant exactly fit in a Fedex Envelope, this was going to be tough. Could GreenlightUPS meet this challenge????
YES,
We sold them a
383b
unit (SUA3000RMT2U) and offered to ship the item via
Southwest Airlines Cargo
.
Total cost: $449 for the unit, $50 for the rush delivery to the airport, $10 six pack working bonus, and then $134 for Air Cargo.
The unit left our shop at 11:20am, was at the airport by 11:50am, and was on the plane at 12:45pm and ready for pickup at Houston airport at 4:55pm.
Not a bad days work.... While I cant promise that delivery schedule every day, we will always try to meet your needs and budget.